Kelowna Airport Shuttle is the best solution if you are arriving in the Kelowna International Airport. The airport is located about 7 miles northeast of the city and about 16 miles from the city centre.
---
---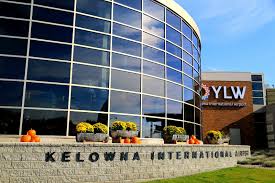 It is worth to know that the airport is one of the busiest in the whole country of Canada. Only in 2014 it has serviced over 1,600,000 passengers! No wonder people so happily arrive in this airport. It is one of the most advantaged airports. The main terminal is a modern spacious building full of many great facilities that make the travellers' trips easier and nicer. Due to a few runways they are able to handle a few aircrafts in the same time.
However, the interior of the airport is fully-serviced. Even those forced to spend in the departure hall a few hours will find the place quite interesting. You will find there 5 good restaurants with many different kinds of food and cafes as well. If you lacked time and didn't do the shopping  in the city, now worries, in the airport you will have the opportunity to do so. Almost 100 shops, boutiques etc. are at your disposal 24/7.
---
Anyways, the whole object is not only just an airport but also a beautiful architectural masterpiece! Each traveller is delighted to see this amazing glass sculpture located in the central part of the main terminal building. The sculpture named "Escape from Stella Polaris" is placed in the middle of a circle of fountains and is really impressive.
The main, destination from the airport of Kelowna are Western Canada, Northern Canada, Pacific Northwest, Toronto but also Mexico and Las Vegas.
The easiest way to get there is by Highway 97. Also, the fastest and most confident carrier is obviously Kelowna Airport Shuttle.
---
See below what we offer:
Door-to-door service.

Full assistance of our french and english speaking drivers.

Value for money.

Trouble-free transfers.

Few options of payment.

Services customisation.
---
Let us make your stay in Kelowna smooth and trouble-free.